When DIY goes wrong: The DIY projects that could cost Brits nearly £10,000
8 April 2020
When it comes to DIY, there are certain projects that you should, and shouldn't do.
DIY is an ever-growing trend – particularly now more than ever with Britons working from home. Between February and March 2020, Google searches for 'DIY' have increased by 9% since this time last year, with searches for 'home improvement' also growing by 12% in the same period.
In the past year, we have also seen young people turn to DIY, with 22%  of 16-24 year olds taking up home improvements during this time.
So, with DIY on the mind of many Brits, True Solicitors – experts in Conveyancing – have analysed the most common home DIY projects being undertaken. Along with speaking to estate agents to reveal what projects can, in fact, cost more than you originally thought and even affect your house value should you choose to sell in the future.
UK households spend £2,007 on updating their home each year
Brits spend an average of £2,007  each year on household goods and services. This includes furniture, furnishings, tools, equipment and other services for household maintenance – suggesting DIY is more important than ever.
The South East spends the most at £2,563, £556 more than the average. London comes in second, with households spending £2,257 on updating their home.
Northern Ireland, however, spends the least on their property, at just £1,638 per year – possibly due to lower costs for tradespeople.
As we spend a considerable amount on our homes, True Solicitors has analysed which DIY projects could end up costing more than you realised.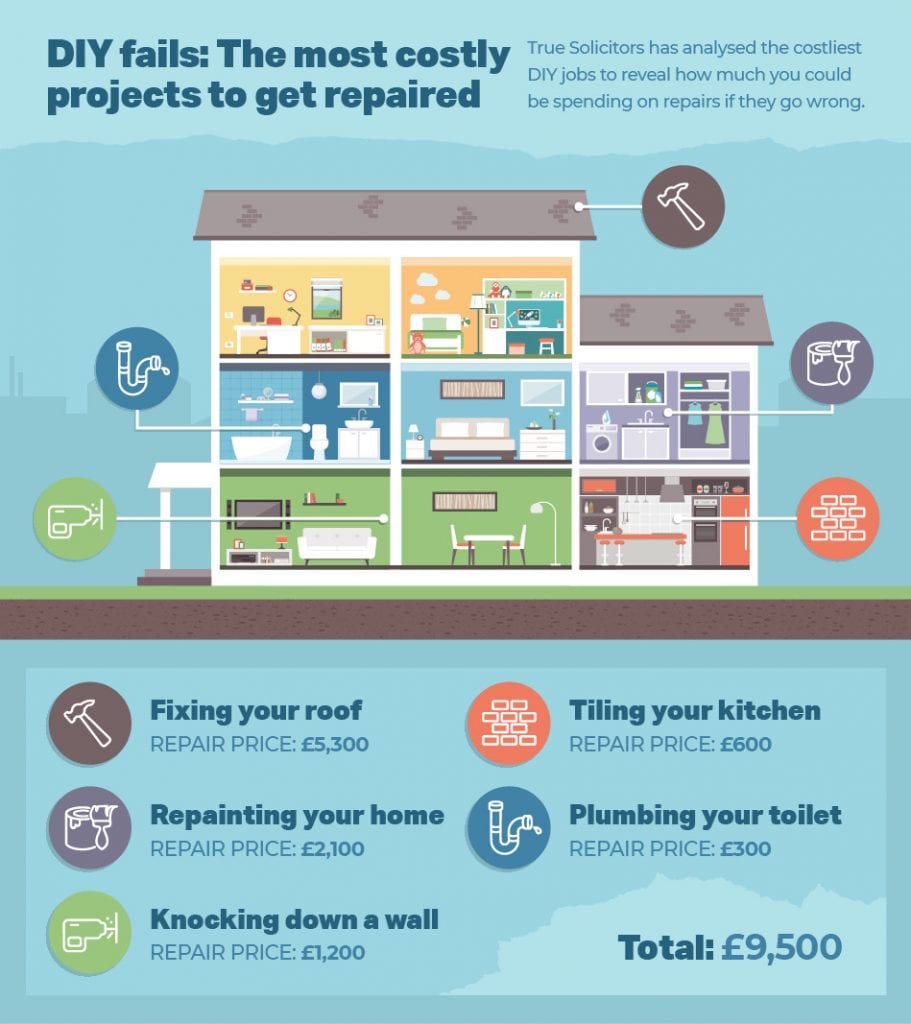 Fixing your own roof could cost upwards of £5,300 to fix
Fixing your own roof is a big no-no, unless you happen to be a roofer. Not only is it exceptionally dangerous doing this if you are unsure of what is required, you could end up costing yourself big bucks.
However, with 'can I repair my own roof' receiving Google searches every month, there are some Brits risking their health and home. If you attempt to fix the structure of your roof, the average cost to repair is a staggering £5300. Typically, it's around £300 – £380 per square metre, so if you have a bigger house, you could be doing more damage than good.
Benjamin Heginbotham, Director of The Practical Planning Company, said that "the roof is a deal breaker when it comes to selling your home. If you were looking at buying a house with a broken roof, it would be perfectly reasonable for you to ask for the value of a reroof – which can range from £10-£15k – to be knocked off the asking price."
DIY tiling can cost £600 in repairs
Only 6% of Brits have attempted their own tiling as, according to the experts, it's a fiddly job . What's more, 25% have had to call in a tiler to repair their initial job – which can cost around £600.
The average price of a tiler is £50 per square metre. With the UK's average kitchen coming in around 12.27 square metres , the price starts to add up if you need to repair damaged tiles from your DIY project.
Benjamin Heginbotham said: "Everything comes down to the finish. If you've never done tiling or grouting before, it's difficult to get a good, polished end result. And as soon as someone comes in to view the house in the interest of buying it, they're going to want to redo the whole thing and will expect the asking price to come down."
A bad paint job can cost £2,100 to repair
Painting a room isn't so difficult, right? Painting a room is the third most common  DIY job in the UK, with 44% of Brits attempting to paint a room in their own house. However, a bad paint job can affect your house value according to experts.
That's not all, the cost of a professional paint job is around £1,555 – £2,100 for a two-bed flat, and can take up to a week to complete.
Zoe Kenworthy of estate agents, Patrick Oliver, Herts & Essex, said: "Without a doubt, badly done DIY and individual paint colours such as bright orange have a distinct impact on the offer level for a home. As prospective buyers take into consideration the cost to re-do the DIY works and to change a colour."
If you do want to give your home a facelift with paint, choosing the right colour can add thousands to the value of your property. Homes with creamy, wheat-coloured kitchens, and dove, light grey palettes in living rooms can sell for £1,000  more than properties with less desirable colour schemes.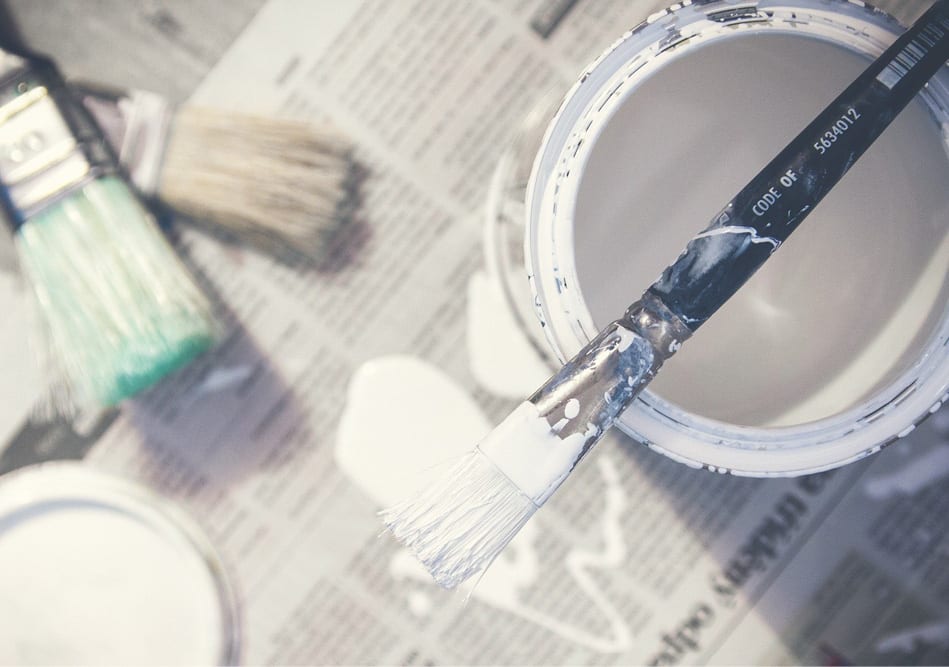 Benjamin Heginbotham went on to say: "A high proportion of homes are bought based on the kitchen and the bathrooms so it's always better to stick to something neutral."
Bad plumbing can cost £300 (plus labour) to fix
Plumbing is the most commonly abandoned DIY job  in the UK, with 55% of Brits saying they have had to call in plumbers to repair their original job. We've got even more bad news; it can cost £300 to re-install a toilet should you try to repair a leaky cistern. This is opposed to the £20-£40 it would cost per hour to fix a much simpler problem.
Zoe Kenworthy said: "If a buyer finds out the owner has done all their own plumbing, for example, they will ask the surveyor to look at this. If there is cause for concern, it could mean the cost to replace the whole system is requested rather than just the one highlighted section. So, it can actually end up costing a homeowner more than if they had had the job done professionally. This could then be applied to all DIY."
However, adding an extra bathroom to your home can boost house value by 3-5%. So, that's an extra £11,500  to the average house price in the UK. For the cost of £300 plus labour, it might be worth investing in the professionals when we are able to in this current climate.
Knocking down an internal wall can cost £1,200 but might not add value
Open plan kitchens and dining rooms may be one of the most popular kitchen trends , but simply rearranging furniture to create more space can save you £1,200 – the average cost of knocking down an internal wall. What's more, knocking down a wall can take around a week, and you must consider the structure of your home to ensure you do not knock down a load bearing wall.
If you have the space, there are a number of things you can do to save money that could take no more than 30 minutes – and you don't have to leave the safety of your home! Place furniture back to back, use lighting to draw the eye to different levels and even consider smaller seating. So, if there's just two of you in the house, why not opt for a table for two instead
Don't forget to tidy up after your pets and children – or risk losing an average of £11,500
Your pets might be, quite rightly, your best friends, but their mess certainly isn't.
This is a DIY task that shouldn't take longer than one day and can stop you losing a staggering 5%  from your house value. If we were to put that in perspective, that's an £11,500 loss based on the average property price in the UK.
Smelly, intimidating or even a lot of pets are said to have a negative impact on your resale value, so it's worth keeping in mind before showing to prospective buyers.
Unprofessional photos could see you lose 61% of page views compared to other houses
First impressions count, especially when trying to sell your home. Studies have found that properties with photos taken on professional, digital cameras can see a 61% spike in page views. So, it's worthwhile investing in a photographer to show the best side of your home.
Some tips on taking the perfect photos include moving cars and wheelie bins out of frame so potential buyers can get a full view of your home. Consider taking your photos in Spring when flowers are in full bloom and you can get the best lighting of your property.
Ignoring inspections could cost you thousands
If you are looking to sell your home, or even buy a new house, we recommend investing in a surveyor. A surveyor  will inspect the property and report on any issues – such as structural, or even major repairs.
While it may look like your house is in working order, the foundations may not be. For instance, if the surveyor identifies an electrical rewire that will cost £5,000 to repair, the house will be devalued – meaning you could lose money and interested buyers. Compared to the average cost of a surveyor between £500 – £1300  – that price doesn't seem much to pay to check your home is in working order.
Zoe Kenworthy said: "If you want your house to be at its best price, you will have to present it at its optimum. That's not to say don't do your own DIY but ensure that you have the correct legal documentation if you do look to renovate the structure of your home."
Some tips could be:
Rearrange furniture to create more space and change the dynamic of the room, without leaving the house!
An option instead of doing your own tiling would be to order vinyl for your worktops and flooring, which can take a lot less time and cost a fraction of the price at £134 .
Kerb appeal is everything when selling a house. Replacing a front door, for instance, could make selling quicker and easier.
Small construction projects, such as revamping your porch, could see the amount you invest doubled when it comes to selling your property in the future.
Most importantly, don't overspend on your DIY. If you really want to renovate your home, we recommend speaking to experts – you can do so online, without leaving the comfort of your home – before doing so to potentially save money and your time.
Start your FREE enquiry today!
Please Note: Estimate amounts are guidelines only. Your injury and recovery are as individual as you are. The amounts are guideline amounts only and any settlement will be based upon the evidence of medical practitioners.