Cervical Cancer Prevention Week
18 January 2021
Today marks the start of cervical cancer prevention week. There are many ways in which cervical cancer can be prevented and treated early.
The impact of Covid-19 means that many women have faced cancelled cervical screening appointments and access to the HPV vaccine. There is also the sentiment amongst many women that their symptoms are nothing to worry about and they have consequently not contacted their GP, for fear of overwhelming the NHS.
It is important to always seek medical attention when you are exhibiting the symptoms of cervical cancer.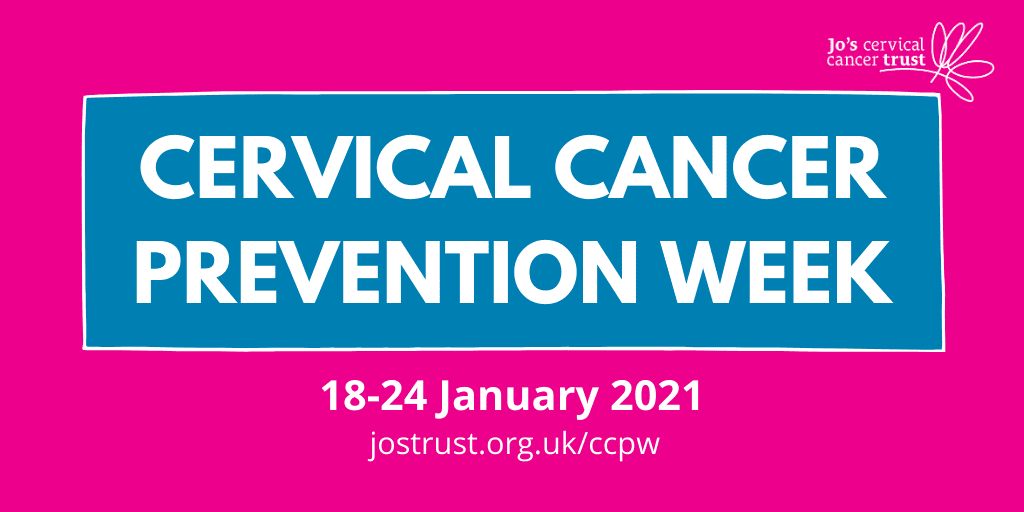 What are the symptoms of cervical cancer?
In its earliest stages there are often no symptoms of cervical cancer. Symptoms can later manifest in the form of:
Abnormal vaginal bleeding – particularly after or during sex, after the menopause, or between regular periods.
Pain during sexual intercourse.
Changes to vaginal discharge
Unexplained pain in your lower back or in your pelvis.
Contact your GP if you are experiencing any of the above symptoms.
What are the symptoms of advanced cervical cancer?
The symptoms of cervical cancer that has progressed or spread to other parts of the body can include:
Unexplained weight loss
Loss of appetite
Severe pain in your side or back that impacts your ability to do your normal day to day activities, and that also doesn't get any better after taking painkillers.
The need to urinate or poo more than usual.
Constipation
Urinary and/or bowel incontinence
Blood in your urine or poo
Vaginal discharge that smells
Swollen legs
Heavy vaginal bleeding
What to do if you have cervical cancer symptoms?
It is important to note that all of the above symptoms can happen for other reasons not associated with cervical cancer, nevertheless it is still important to be assessed by your GP.
Can I still be seen by my GP during the lockdown?
Some GP surgeries are still seeing patients face to face during the lockdown, however it can be expected that your GP will arrange for a telephone consultation with you first. You can expect your doctor to run through a series of questions on the phone that will help them to decide on the next steps:
Medical history: You will be asked about your medical history to understand what might be causing the issues. If you have had cervical screening in the past you will also be asked about your past results.
Sexual history: You will be asked about your recent sexual history to rule out any chances of your symptoms being the result of an STI. You will also likely be asked if you are currently taking any contraception.
Pregnancy: You will be asked if there is any chance you may be pregnant, and if you could be you will be asked to take a pregnancy test.
After the telephone consultation your doctor will advise if you need to see them in person for further examination and any necessary tests.
How is cervical cancer detected?
Cervical cancer is usually detected through cervical screening (commonly referred to as a smear test). The test is used to detect for the presence of the HPV virus and abnormal cell changes which may lead to cervical cancer in the future.
If abnormal cell changes are detected your GP should then refer you to see a gynaecologist for further tests to determine if the cells are cancerous. Further testing can involve:
Colposcopy
Cone biopsy
Pelvic examination
CT, MRI and PET scans
It is imperative that test results are recorded and interpreted accurately, as any delay or error can lead to devastating consequences.
Can cervical cancer be misdiagnosed?
The cervical screening program in the UK is generally conducted to a very high standard.
However if diagnosis is delayed or test results are interpreted incorrectly this can lead to the cancer becoming more difficult to treat, leading to more invasive therapies.
The common reasons for late or misdiagnosed cervical cancer include:
Medical professionals mistaking cervical cancer for heavy periods or the menopause.
Failure to be referred for a smear test or other forms of cervical cancer detection.
Failure to interpret the results of a test or biopsy properly.
Failure to notice a tumour during a cervical examination.
Symptoms diagnosed as another illness.
What should I do if I have been misdiagnosed?
If you have suffered due to a late diagnosis or misdiagnosis of cervical cancer in the last three years you could be entitled to make a claim.
Making a claim can help you to get the compensation that you deserve to make up for your pain and suffering, loss of earnings and ongoing medical and care needs.
Our medical negligence solicitors will assess your case and if we believe it has good prospects, we will agree to take on your case under a conditional agreement. This is more commonly known as a No Win, No Fee agreement.
Resources:
https://www.jostrust.org.uk/get-involved/campaign/cervical-cancer-prevention-week
https://www.nhs.uk/conditions/cervical-cancer/
https://www.cancerresearchuk.org/about-cancer/cervical-cancer
Start your FREE enquiry today!
Please Note: Estimate amounts are guidelines only. Your injury and recovery are as individual as you are. The amounts are guideline amounts only and any settlement will be based upon the evidence of medical practitioners.