World Cancer Day 2021
1 February 2021
World cancer day takes place every year on the 4th February. It is an initiative from the Union for International Cancer Control (UICC) which is the oldest and largest international cancer organisation, dedicated to uniting the cancer community to reduce the global burden of the disease. The UICC focus on promoting greater equality and to integrate cancer control into the world health and development agenda.
At the core of the UICC's agenda is the belief that everyone, no matter their ethnicity, gender, income or where you live in the world, should have the same access to life saving cancer diagnosis, treatment and care.
World Cancer Day theme: I Am and I Will
The UICC has been running a three year campaign which focuses on creating long-lasting impact by increasing public-facing exposure and engagement, as well as creating more opportunities to build global awareness and impact-driven action.
2021 marks the final year of the 'I Am and I Will' campaign with the theme of 'Together, all our actions matter', which shows that whoever you are, your actions – big and small – will make lasting, positive change.
Cancer signs and symptoms
Early detection and diagnosis of cancer can make a difference between life and death. The below infographic explains what signs and symptoms you should look out for.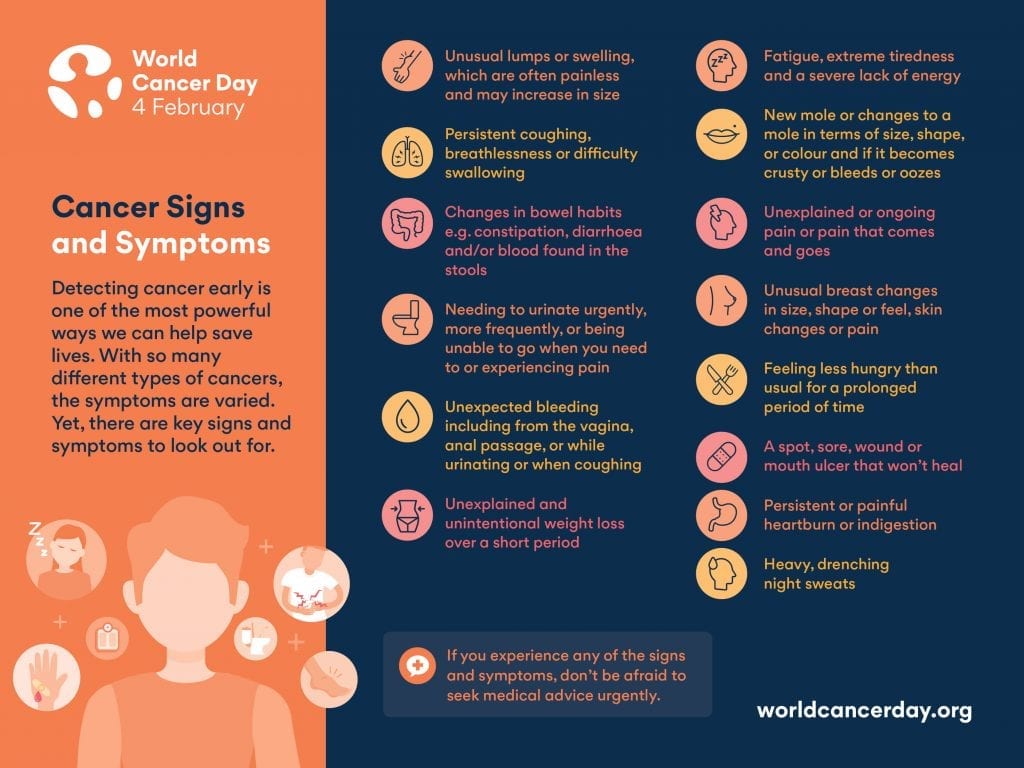 UK Cancer charities to support
There are a number of different ways to show your support in the fight against cancer. Below is a list of some of the most well-known cancer charities in the UK that you can help:
Cancer Research UK
Macmillan Cancer Support
Children with Cancer UK
Teenage Cancer Trust
Breast Cancer UK
Prostate Cancer UK
Start your FREE enquiry today!
Please Note: Estimate amounts are guidelines only. Your injury and recovery are as individual as you are. The amounts are guideline amounts only and any settlement will be based upon the evidence of medical practitioners.