Uncovered: The Best and Worst UK Cities for Cyclists
2 January 2020
In 2019, 1 in 10 Brits cycled more than once a week. What's more, the Government has pledged to spend £1.5 billion on cycling investments in the near future. The aim is for 'cycling and walking to become the norm by 2040'.
In response, True Solicitors has analysed bicycle thefts, air pollution, cycling statistics, road accidents and the cost of public transport to reveal the best city for cyclists.
Lancaster is the UK's best city for cyclists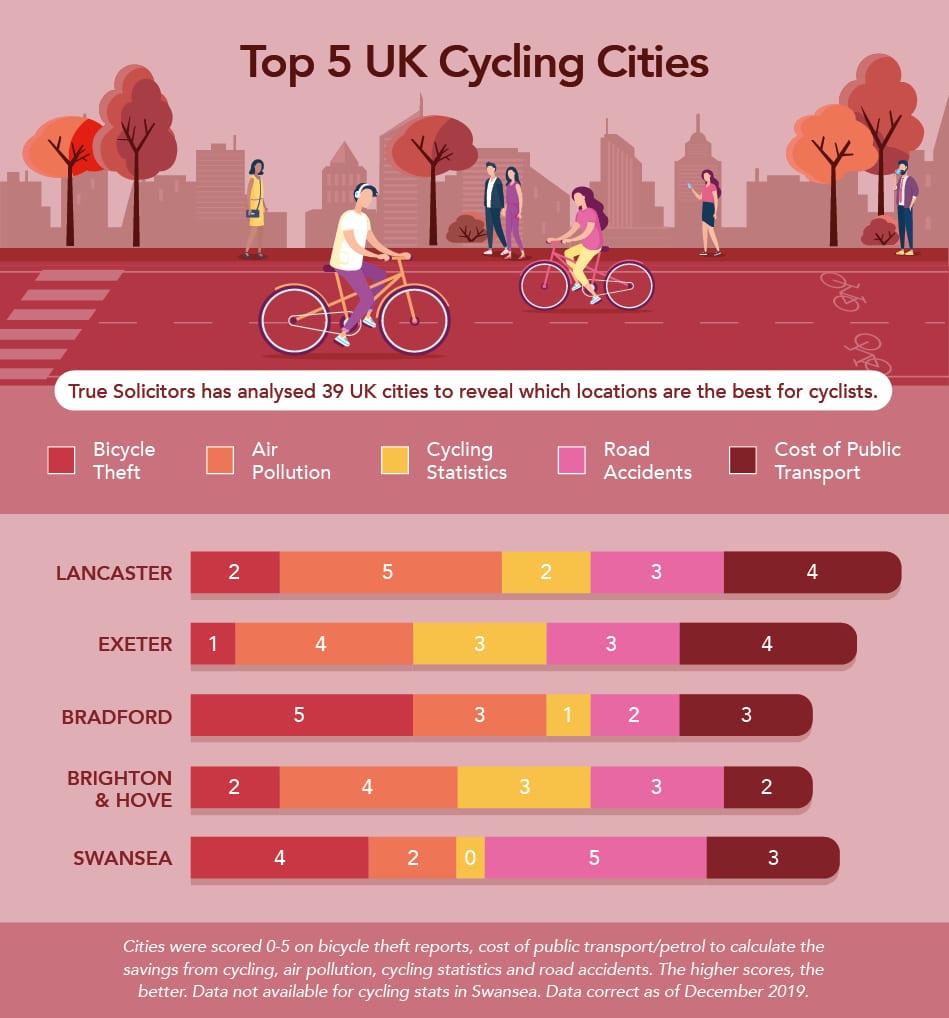 For those looking to experience a city on two wheels, Lancaster scored top of the leader board for the most bike-friendly city in the UK.
Lancaster – one of the six locations in England selected to promote cycling as a mode of transport back in 2005 – offers some of the best air quality and safest roads out of the 39 cities studied. In 2018/19, the city recorded 1 accident per 729 people.
Exeter closely followed suit in second place. Like Lancaster, Exeter was also one of the original locations picked to promote cycling in 2005. According to True Solicitor's data, the city scored points for good air quality and cycling and walking statistics. In 2018, 21% of the city's population regularly cycled more than once a week.
London is the least bike-friendly city in the country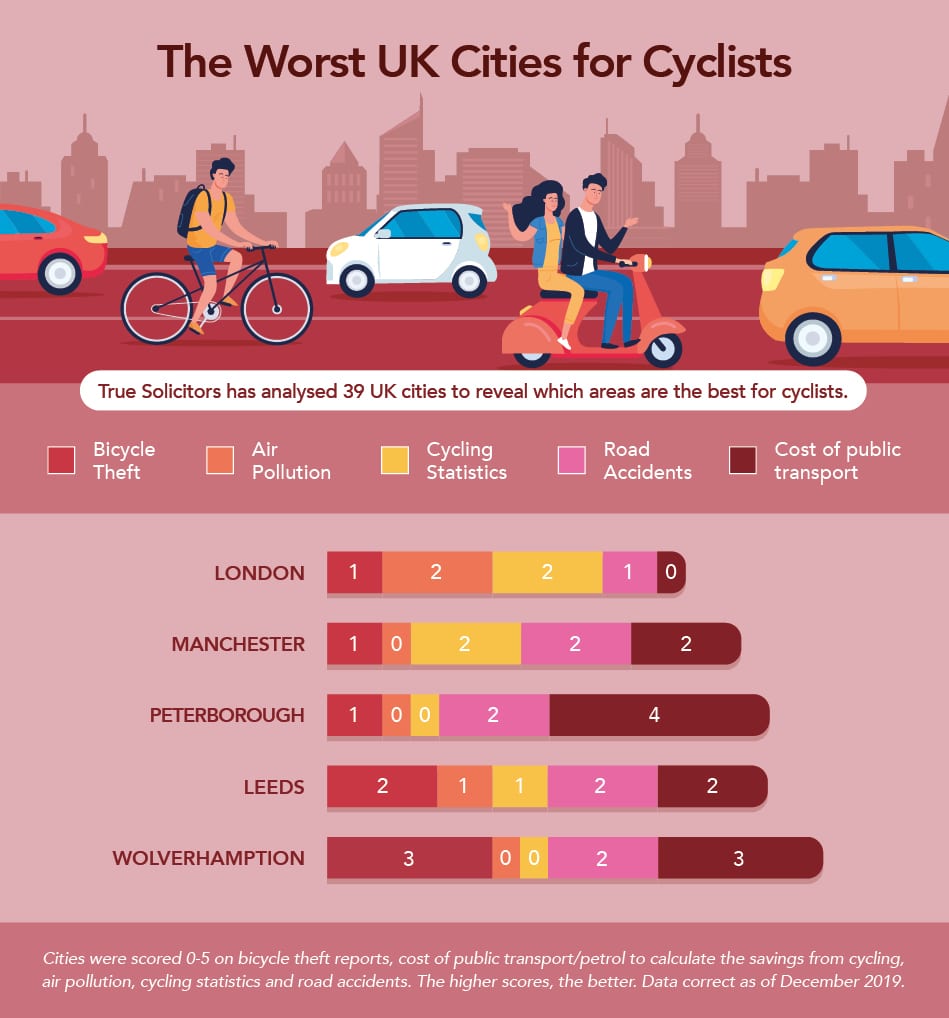 True Solicitor's data reveals that London is the UK's worst city for cyclists. This is despite the Government spending £18  per head on cycling in the capital, compared to just £7 per individual in the rest of England.
London has recorded some of the highest road accidents in Britain in the previous year, with only Birmingham documenting more. There are estimated to be an accident for every 1 in 342 people. This is compared to the lowest rate in Cardiff, which has an incident reported for every 1 in 1,296.
Similarly, air pollution is high in the capital with an Air Quality score of 63 recorded. Bicycles are also more at risk in London, with a bike theft reported for 1 in every 411 people.
Manchester also came in second bottom of the leader board. Manchester, in particular, scored extremely low for air quality – with more pollution recorded in the northern city than anywhere else in the UK.
Birmingham has the most dangerous roads for cyclists in the UK
While London has been revealed as the worst place for cyclists in the country, it's Birmingham that takes the title for the most dangerous roads.
In the past year, Birmingham has seen 2,614 road traffic incidents; the equivalent of 1 for every 320 individuals. This may be having an effect on people cycling in the city. Only 10% of Birmingham's population stated they regularly cycle more than once per week.
The two safest cities for cyclists according to road accidents are in Wales. In Cardiff, only 366 road accidents were recorded. Likewise, in Swansea, only 266 traffic incidents were documented in 2018/19.
However, as cyclists are 63 times more likely to be involved in casualties on the roads than drivers, we recommend getting to grips with the area before heading out on your bike. If you do have a cycling accident on the roads, it's important to read up on what you can do next.
Bradford has the lowest rate of bicycle thefts in the country
Bradford is the third best city for cyclists in the UK and is also one of the safest for travellers leaving their bikes.
In the past year, there was only 1 bike theft for every 1,934 people reported in the city, which even played host to the Tour de France in 2014. This is compared to a theft for 1 in every 81 people in Oxford, the highest recorded rate in the country.
While Bradford does have some of the lowest cycling statistics in the UK – based on people cycling more than once per week – the numbers have increased by 3.2% in the past year, suggesting attitudes to cycling are changing for the better in the city. Similarly, Bradford has also introduced a groundbreaking cycle scheme that has seen patients prescribed cycling by healthcare professionals. As a result, more than 1,000 people have seen improvements in their physical and mental health.
Oxford and Cambridge recorded the UK's highest number of bike thefts
Both Oxford and Cambridge boast the largest proportion of people cycling once per week in the country, at 39.2% and 57.5% respectively. Recognised as cycling cities, 27% of people cycle to work in Oxford, and a further 43% do so in Cambridge, the largest proportion in the whole country. However, the rates of bicycle thefts in the university cities are at the highest in the UK.
Oxford has the most reported levels of bicycle theft in Britain in 2018/19, with 2,050 thefts documented – equating to 1 theft per 81 people. Cambridge also recorded 2,967 bicycle thefts, or 1 in every 149 individuals.
Similarly, Oxford is the fifth worst city for road accidents in the UK, with an incident for every 416 people.
Brits can save up to £1,600 each year from cycling
With the government pledging to spend £1.5 billion on cycling infrastructure across the UK, it might be time to start cycling – especially when it comes to saving money.
London has the most expensive public transport in the UK. If you were to take up cycling in an effort to improve your health, you could save £1,692 each year.
Canterbury has some of the highest prices for public transport in the UK, with a monthly pass costing £96. Yet, travelling on two wheels could save £1,152 annually.
The same can be said for the UK's most bike-friendly city. In Lancaster, you could save up to £600 from taking up cycling. That's not to mention the health benefits.
While cycling can help keep you physically healthy for longer, it has also been said to boost your mental health. According to a recent study, 18% of people who ride a bike everyday consider their life to be happy. Additionally, it's been found that aerobic exercise – including cycling – can significantly reduce feelings of anxiety, potentially preventing any panic attacks or psychological disorders that affect your daily life.
If you are keen to cycle more, we recommend looking at your local council website to see what cycling schemes are offered and speak to those doing so within your area to ensure you take the safest routes.
How to stay safe when cycling
Ensure your bike is roadworthy
Check your tyres, brakes, chain and saddle regularly – especially during the colder months. If possible, carry a bicycle repair kit for any sudden emergencies.
Know the roads
If you are starting cycling, read up on the routes to avoid any busy roads where you could get caught in  traffic. Try and use wide roads when possible, as squeezing through narrow spaces between cars can often lead to accidents.
Additionally, when cycling, always give plenty of notice and signal before making a manoeuvre.
Don't use headphones
Never use headphones while cycling as you can leave yourself extremely vulnerable on busy roads, as you can't hear vehicles until the last moment.
Wear bright clothing
This is particularly beneficial during winter when you are cycling in the dark. Alert your presence to passing motorists by wearing hi-vis jackets. It's also essential you have lights and a bell on your bike.
Don't forget your helmet, either, as it offers added protection should a cycling accident occur.
Methodology:
True Solicitors analysed 39 cities in the UK, scoring them from 0-5 on:
Bicycle theft reports
Cost of public transport
Air quality (AirVisual)
Cycling statistics
Road traffic accidents
Each city was then scored based on the points above to reveal the best, and worst, cities for cyclists.
Data correct as of December 2019.
Start your FREE enquiry today!
Please Note: Estimate amounts are guidelines only. Your injury and recovery are as individual as you are. The amounts are guideline amounts only and any settlement will be based upon the evidence of medical practitioners.